5 Reasons Bookkeeper Business Launch Is Legit
DISCLOSURE: THIS POST May CONTAIN AFFILIATE LINKS THAT WILL REWARD ME MONETARILY OR OTHERWISE WHEN YOU USE THEM TO MAKE QUALIFYING PURCHASES. FOR MORE INFORMATION, PLEASE READ MY EARNINGS DISCLAIMER.
If you've been looking for Bookkeeper Business Launch reviews, then this blog post is for you.
Today, I'm following up on our popular post, how to start a Bookkeeping Business, by telling you all about the best bookkeeping course to get you started – Bookkeeper Business Launch!
The Bookkeeper Business Launch is an online bookkeeper training program that will give you a clear, proven path to success.
Become a profitable Bookkeeper with Bookkeeper Business Launch
If you want to learn the ins-and-outs of starting your own profitable Bookkeeping Business from scratch, Bookkeeper Business Launch is the course you need.
This course will teach you all the Bookkeeping skills you need to know from scratch, even if you have no prior knowledge.
You'll learn everything you need to know to make a full-time income within 10 to 12 months.
The course videos develop the student's understanding of bookkeeping and accounting, basic bookkeeping functions, analyzing business transactions, general journal and ledger, accounting adjustments, monthly and annual closing process, and preparing financial statements.
The Bookkeeper Launch System also has several helpful pages under the Support and Resources tabs like a help page, FAQs, glossary, recommended reading, and more.
Who is it best for?
This course is great for both women and men who want:
A proven, step-by-step approach that leads to a predictable income as a Bookkeeper
Lots of hand-holding and support from a "student success team"
Quizzes, tests, and other ways to test your learning
Practical application of learning in Quickbooks
A 12 month FREE trial of Quickbooks
A certificate of completion
Training for finding clients
Resource Library Access
Exclusive Members-Only Community
and so much more!
Above all, I think that its fantastic Bookkeeper Launch has taken steps to ensure that the presentations and resources are inclusive of everyone–even those with visual and hearing impairments. Transcripts and captions are available on all modules.
Stellar Support
Student Success Team
What I love about this program is the phenomenal support they give to each student. The success team is available to meet with you every step of the way.
Bookkeeper Business Launch syllabus
Bookkeeper Business Launch is legit because it provides each student with an impeccably designed syllabus which is important for success in the class.
If you take this course, you'll be able to trust that the curriculum is going to provide you with a framework that sets up all of the learning goals and ensures that you have the resources to track your progress.
The syllabus is divided into three sections to help you move forward in a logical sequence learning the key concepts of this industry:
Bookkeeping Skills:
You'll learn the foundational elements of bookkeeping, including everything you need to know about the 3 most important financial reports. You'll also learn a proven system for cleaning up a new client's messy books.
Marketing:
You'll learn how to identify your "ideal target market" as well as how to craft a marketing and sales message that will sell your services with ease. There is deep dive into perfecting your proposals and prices.
Business Systems:
You don't just want a vibrant business. You want a vibrant LIFE! This module includes business launch checklists and templates that will increase your confidence. And plenty of tips for how to use tools to automate your business – so that you can slowly increase your income while decreasing the hours you actually work.
Bookkeeper Business Launch is legit because it provides each student with an impeccably designed syllabus which is important for success in the class.
Will Bookkeeper Business Launch help me find clients?
Bookkeeper Business Launch is legit because you will receive training on how to find clients.
While Bookkeeper Business Launch won't funnel clients directly to your business, they will provide excellent training on how to find leads. One of the best (and free!) networking platforms for that is LinkedIn.
The Bookkeeper Business Launch has a module with four lessons to help you learn how to bring in clients using LinkedIn. The module is taught by guest instructor Melonie Dodaro, who has already taught close to 30,000 individuals and companies on how to leverage LinkedIn to generate more revenue in their business. Monica is also the author of the bestselling book LinkedIn Unlocked.
The LinkedIn module includes:
✔️ A 12-page workbook on crafting a LinkedIn profile that sells your services in a non-sleazy way
✔️ Message templates so you don't lose time wondering what to say to prospective clients
✔️ Lead tracker, to keep your marketing tasks organized and ensure you follow-up with your connections
Bookkeeper Business Launch is legit because you will receive training on how to find clients and easily sell your services.
When is Bookkeeper Launch open for enrollment?

Enrollment is open all the time. The best way to get started for FREE is by enrolling in the Discovery Series.
How much does Bookkeeper launch cost?
I feel ambivalent about including the course price in this post. The course is expensive. If you're on a tight budget that can be discouraging.
Plus, like anything else in life, pricing is subject to change. And truthfully, I don't want to feel the pressure to constantly update this post.
But this is supposed to be a thorough review. At the time of writing this, the actual full price of the course is approximately $2,000. However, there is a very fair 12-month payment plan.
As a smart consumer, it would be a safe bet for you to watch the Discovery Series and get on their mailing list. Most online courses have an amazingly generous discount or coupon code for new email subscribers.
And whether you sign up or not for the full course, the Discovery Series will help you learn more about running a Bookkeeping business.
Investing In Your Future
According to the American Association of Community Colleges, the average yearly cost of tuition and fees for community college students in the U.S. is $3,347, compared to an average cost of $9,139 at four-year institutions.
So, when you make the comparison to a community college education, Bookkeeper Business Launch is more affordable and convenient because it's 100% online. That also allows you to learn at your own pace, so you can easily balance your time between the course and your current obligations.
If you already have your four-year college degree…congrats first of all. That is a huge accomplishment!!!
But, unfortunately, it doesn't equate to actual job training. It also doesn't necessarily qualify you to launch a profitable home business. So investing in your education and acquiring a specific marketable skillset is still something to consider.
What Support Is Included With The Course?
Bookkeeper Business Launch is legit because it has the right infrastructure to support each student.
A supportive Student Success Team (SST) is ready to help you at every stage. The SST has a student-only email address with a quick reply time. They're available from 9am – 5pm EST, Monday through Friday.
There is also a peer-to-peer Facebook community full of like-minded people all working toward the same goal of starting a successful bookkeeping business.
Bookkeeper Business Launch is legit because it has the right infrastructure to support each student.
You also get a consistent Q&A schedule to follow:
Weekly Course Q&A – get your course-related questions answered
Weekly Client Q&A – bring your client-related questions to get one-on-one advice
Monthly Legal Lunch – Ask our attorney your legal questions
Live Q&A page – if you can't attend the Q&A sessions live, you can watch the replay
If it's remote learning and self-paced, how do I track my progress?
Within most units in the Skills sections of the course, there are quizzes throughout the lessons and a Unit Test at the very end. It's a progressive process to ensure you have mastered the skills required to do the job with confidence:
Once you pass all quizzes within a unit (pass with 80% or higher), the Unit Test will become available.
Pass all Unit Tests, the two-part Knowledge Final Exam will become available.
You can move onto the Practical Final Exam after you pass the Knowledge Final Exam
Are there incidental costs?
Here is the hard-core truth…
When you complete the course, you will want to create a website and brand for your small business. It will help you look and feel like a true professional. It will also help you book stellar clients.
The cost associated with a beginner branding kit and website could be in the range of $400 to $900. It just depends on how much you are able to DIY.
Quickbooks is included in the course!
YOU GET A ONE-YEAR FREE TRIAL TO QUICKBOOKS! After learning the foundational elements, the course will progress to the point that you will need to work in QuickBooks for hands-on instruction and practice.
Bookkeeper Business Launch is legit because you will receive a copy of the Quickbooks software and training on how to use it correctly.
You have 4 months from the date you enroll in Bookkeeper Business Launch to activate your free account and it will be valid for 12-months after activation. (The standard free trial of Quickbooks is only 30 days.)
Certificate of Completion!
Did you know that when you are finished with the course, you can earn your Bookkeeper Business Launch Certificate of Completion? To earn your certificate you will:
Complete the Skills units contained in Days 1 – 60 on the Roadmap
Pass all Quizzes and Unit Tests within the Skills units
Pass the Knowledge and Practical Final Exams
After you've completed those tasks, you will receive your digital certificate of completion. This is unique to you. It has YOUR name on it. You can post your digital certificate on your website, Linkedin, Facebook, anywhere! This signifies, to your clients and prospective clients, your ability and dedication.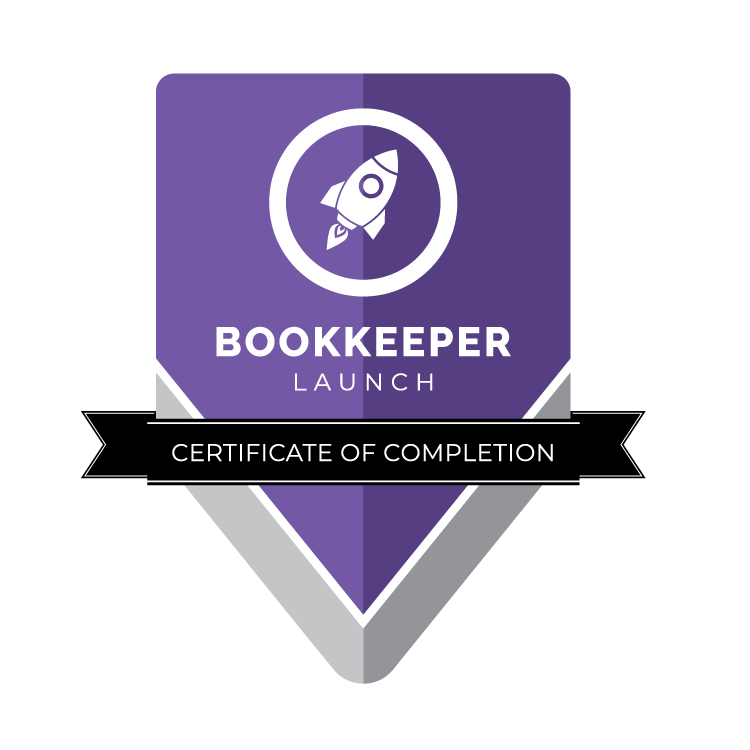 Your certificate is third-party verified through Acclaim. It's linked in real-time so anyone can verify the authenticity of your certificate.
Your Certificate of Completion
Bookkeeper Business Launch is legit because you'll have something to show for your efforts. Potential clients will appreciate that you have taken the time to invest in your education.
Is Bookkeeper Business Launch accredited?
Bookkeeper Business Launch is a course that is run by Bookkeepers.com And Bookkeepers.com is an accredited business. You can check out the Better Business Bureau listing here.
How to get a taste of Bookkeeper Business Launch
Ben Robinson, the creator of Bookkeeper Business Launch, has created a discovery series that will give you a taste of his style. The discovery series is a behind-the-scenes look at what it takes for you to be successful as a Digital Bookkeeping Biz Owner.
Ben defines success as:
Creating the FREEDOM to determine how much money you can earn, so that you have the funds to fuel the life that you want
Having the FLEXIBILITY to determine where you earn money so that you're not tied down to a location, a long commute, or an office full of crabby people stuck in cubicles 🙂
Being able to determine how much time you have with FAMILY so that you never have to miss an important event in life (like your kid's school play or soccer game)
Note: After you watch the Discovery Series, you should receive an email invite that will give you the opportunity to sign up for a demonstration. During the 15 minute demo, you'll get a behind-the-scenes look inside of Bookkeeper Launch and how it can help you to achieve your goals in record time.
Who is Ben Robinson?
Ben Robinson is a Certified Public Accountant (inactive since he sold his CPA firm in 2014 and began Bookkeepers.com).
He is also a proud Veteran of the United States Air Force.
Ben works out of the Bookkeepers.com offices in Suwanee, GA – close to Atlanta. There are 16 team members that work together (and because Ben is a family man, two of his three kids are a part of the team).
Together, they have helped more than 10,000 women and men (just like you) to launch their own life-changing business. Ben is a champion of taking slow and steady action towards your 3F lifestyle.
Is Bookkeeper Business Launch a scam?
Whenever there is a course out there for a significant amount of money, people usually want to know if it's a scam or if it's legit. (To be fair, I'd want to know too!)
Bookkeeper Business Launch is definitely not a scam. Their complete focus is on your success. (Yes, they are a business. And as a business, they must make a profit to continue serving you…but profit is the only reason ANY business can exist.)
It is their belief and experience that when they focus FIRST on their student's success, the profit falls into place organically.
And they have some impressive stats that prove 'em right:
Are you ready to work from home as a Bookkeeper?
I've given you my full-length review, but I'll just leave you with a few closing thoughts…
There is no profit-generating business in the entire world that will make you successful without some sort of investment of time and money. (It's just not how the world or life works.)
But if you're willing to invest yourself in order to get a return and you're looking for a legitimate home business that can bring in predictable income…you can definitely find that here.
If you like free classes then make sure you click here to try the free Discovery Series – no obligation to buy!